Target:
Working with participation, staff turnover, and performance using gamification mechanics.
Solution:
Gamified corporate social network. Badges and ratings.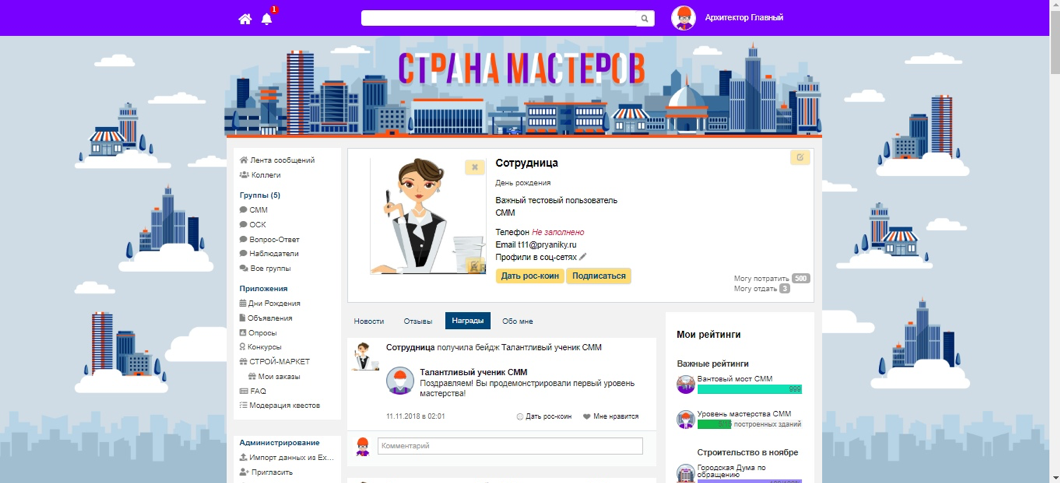 ---
For a gamified experiment our company is the right audience it featured our KPIs, the need for online communication as well as easy perception of game formats. We chose the Pryaniky platform as a team partner and developer – firstly, because this is a ready-made solution that could be quickly customized for us, and secondly, for extensive expertise in preparing the script

by Olga Gnelitsa, Head of the Contact Center of PJSC Rostelecom, MRF North-West
Previous
Next
---
Results:
For customer retention department, the key index is retention rate. During the project, it grew by 18% and reached the highest level countrywide. The SMM department has two key indicators – efficiency (the number of processed requests per time) and, like CRD, retention. During the project, both indicators have doubled. At the same time, despite the increased speed of processing requests, not only the quality did not suffer, but increased (according to the 100-point system, during the project, the quality grew from 93 points to 96).
Interesting Facts:
The scenario was: by achieving KPIs, participants earned badges symbolizing iconic objects of cities – the Main Client Academy, the Quality Laboratory, the Ministry of Dialogue, etc. – i.e. each object was associated with one or another key performance indicator. Once a week, the individual ratings of the participants were recalculated and badges were issued, marking the progress of construction: it was possible to complete a building by 25-50-75-100%; for each "milestone" in addition to the badge, the participant received a bonus in the game currency – Roscoins (the closer to completion, the greater the bonus). This made the goals achievable – the participants received a reward not only by crossing the finish line of the completed plan, but also passing the "milestones" of each quarter.
There are two types of goods in the virtual "Building-Market": material – branded mugs, thermcups, pens, diaries, hoodies, picnic bags, powerbanks, heated lunchboxes, etc. Along with impressions: a trip to the water park, excursions. The second category is intangible gifts: the opportunity to be late, an extra vacation day, a day of work in any position, a trip to another city to exchange experience, a photo session at the workplace, brunch with a manager, amnesty from sanctions and fines. The most popular item is a day off.
The game metaphor of the "Land of Masters" lasted only 3 months, but the project was annual. The metaphor was used to generate participation, and after 3 months the gaming environment acquired a more "neutral" look, without construction sites and buildings. But this did not slow participant activity – employees continued to track their progress in the game, although it became much less a game, but more ofa supportive environment and a dashboard for tracking their own results.
Other success stories of our customers